Bassingbourn Libyan cadet independent inquiry call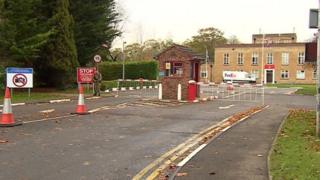 Warnings highlighting the "significant risks" of training Libyan soldiers in the UK show the "urgent need" for an inquiry, a council leader has said.
About 300 cadets arrived at Bassingbourn Barracks, near Cambridge, in June but were sent home after five were charged with sexual assaults.
A report is expected to be discussed in Parliament in the new year.
Lewis Herbert, head of Cambridge City Council, said an "independent inquiry, not a cover-up" was needed.
Prime Minister David Cameron has ordered the report into the training programme to be carried out by a senior civil servant from the Ministry of Defence who was not involved in the programme, and another from a separate government department, an MoD spokesman said.
The spokesman added the report authors had spoken to representatives of Cambridgeshire local authorities "to ensure their concerns informed its recommendations".
'Risk to morale'
The BBC revealed a security and risk assessment document warned of the potential danger of allowing unsupervised visits.
The report, by the Cross-Whitehall Libya Security Compact Delivery Group, said: "Outward recreational visits pose significant immigration, security and reputational risks to the UK."
However, it also said it was "unrealistic and a risk to morale and discipline to confine persons to camp" for the duration of their 24-week training.
Labour council leader Mr Herbert criticised the MoD for going ahead with the training "despite knowing there were major risks".
He said: "These latest revelations reinforce the urgent need for the independent inquiry we called for nearly two months ago.
"Who ordered this high-risk programme to proceed and why, despite the risks Whitehall clearly knew about, including putting the safety of Cambridge and Bassingbourn residents in jeopardy at a time when Libya is in chaos?"
Local councils, he said, would "continue our campaign for openness and honesty, and for the city council that still means an independent inquiry, not a cover-up".
Up to 2,000 soldiers were expected to undergo training at the barracks under an agreement reached at last year's G8 summit to support the Libyan government's efforts to improve security and stability.
The first recruits arrived in June. After five were charged variously with sexually assaulting women and raping a man in Cambridge in October, the training was curtailed and the recruits sent home early to Libya in November.
The report also said that despite screening of the recruits by UK officials and standard UK visa application processes, the "effectiveness" of vetting carried out in advance by the Libyan Integrity Committee "cannot be guaranteed".
However, the report concluded "the reputational risks for the UK proceeding with training are assessed as much lower than not doing so".