New Year's Honours: Cambridge Satchel Company founder honoured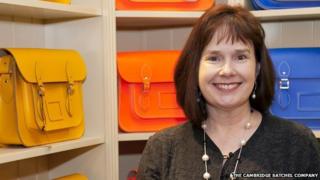 A woman who started a bag-making business from her kitchen table in Cambridge to help pay school fees has been recognised in the New Year's Honours list.
Julie Deane, who now employs more than 100 people at The Cambridge Satchel Company, has been appointed OBE.
She said she was "immensely proud" and it was "the icing on the cake".
Others honoured in Cambridgeshire include doctors, academics and volunteers.
Mrs Deane, from Great Shelford, and her mother Freda Thomas started the satchel business with just £600 in 2008.
'Hard work'
She now has two shops, one in Cambridge and one in Covent Garden in London, and sells her bags to customers in more than 120 countries.
"It is a real honour to be have been appointed OBE as the result of six years of incredibly hard work.
"I'm immensely proud of what we have achieved as a company," said Mrs Deanes, who is honoured for services to entrepreneurship.
Others in the county recognised in this year's list include the writer Ali Smith, from Cambridge, who in November won the Goldsmiths Prize for original fiction for her novel How to be Both. She has been appointed CBE for services to literature.
Prof Sharon Jayne Peacock, a clinical microbiologist from the University of Cambridge, has been appointed CBE for services to medical microbiology.
Former Addenbrooke's Hospital oncologist Dr Michael Vaughan Williams has been appointed MBE for services to oncology.
People have also been recognised for long-term service to their communities.
These include school governor and volunteer music teacher Timothy Maynell. The 74-year-old, described as a "constant presence" at Alconbury C of E Primary School, has received the British Empire Medal (BEM).
Helen Bond, from Barton, has been appointed OBE for services to the community and the Women's Institute while Dr Jane Rata Williamson has been appointed MBE for services to young people in the south of the county.