Child sex abuse police officer Nick Lidstone sentenced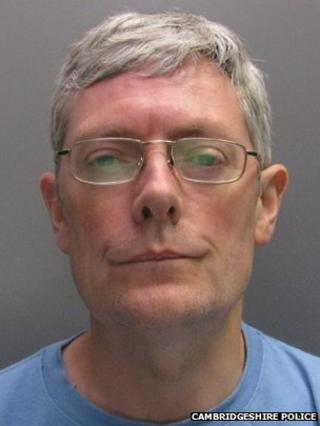 A judge who sentenced a paedophile police officer to 14-and-a-half years in jail questioned how he had kept his job despite previously being caught taking photographs of children.
Cambridgeshire Police sergeant Nick Lidstone has admitted a series of rapes and child sex attacks on a victim.
Norwich Crown Court heard Lidstone had been arrested eight years earlier for taking "up-skirt" pictures of children.
The 54-year-old had been given a conditional discharge in 2005.
Lidstone, who had taken the pictures using a spy pen in a branch of Tesco, had not been placed on the sex offenders' register as he had never been charged with an offence.
He had kept his job after agreeing to have counselling. All of his most serious abuse happened after this offence.
In placing him on the sex offender's register for life, Judge Anthony Bate said because Lidstone was only convicted of a public order offence a chance to detect his abuse was missed.
He told Lidstone: "Why on earth you were not charged under the sexual offences act, I do not know.
"Whoever took that decision, it allowed you to carry on as a police officer."
Cambridgeshire Police Chief Constable Simon Parr said: "At the time of the offences in 2005, the case was reviewed and the then Deputy Chief Constable decided Lidstone be placed on restricted duties.
"If we were faced with the same decision today, a more severe sanction would be imposed."
Alec Wood, Deputy Chief Constable of the force, said Lidstone's sentence reflected "the horrendous nature" of his crimes.
He said police would always investigate cases about the conduct of their officers "thoroughly and ensure any offenders are brought to justice."
At an earlier hearing, Lidstone, from Heslerton Way, Barrington, Cambridgeshire, had pleaded guilty to 13 offences including three counts of rape, three counts of indecency with a child, various sexual assaults and taking an indecent photograph of a child.
Prosecutor Andrew Shaw said Lidstone had started grooming the victim when she was nine.
The victim, who cannot be named for legal reasons, earlier this year reported years of abuse which culminated in being raped as an adult.
She was unable to make a statement to court as she was so distressed the thought of it "made her physically sick".
"This was serious sexual assault," Mr Shaw said.
One witness who knew the victim described how her life had been "ruined".
"She has never been able to integrate or make friends," he said.
Lidstone broke down in tears in the dock as details of his abuse were read out.
Kerry Broome, mitigating, said Lidstone had been "infatuated".
She said: "He is very well aware of the shame he has brought on the police force and his 30 years of service are over."
Lidstone pleaded not guilty to two counts of indecency with a child, two counts of indecent assault, one count of sexual assault and one count of assault by penetration.
Those charges will lie on file.