Shepreth's Christmas tribute to WW1 soldiers published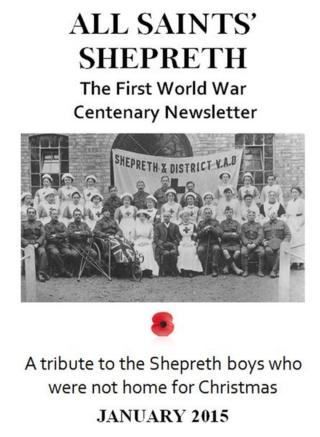 A special Christmas edition of a Cambridgeshire village newsletter has been published in tribute to those who died in World War One.
It is dedicated to "the Shepreth boys who were not home for Christmas".
It contains photographs and stories of those who died as well as survivors.
Its writers said they considered publishing the newsletter in August to mark the centenary of the start of the war, but wanted people to have "time to enjoy it over the festive season".
Residents' interest in the wartime history of Shepreth was piqued four years ago when a postcard - sent during World War One by a woman called Nellie to Pte Edward Wolstencroft of the Royal Fusiliers - was discovered hidden behind panelling in the village hall.
The building was used as a military hospital during the war and it is thought Pte Wolstencroft was being treated there.
'This beastly war'
Since the discovery of the card, local history enthusiasts have been gathering other photographs and stories, building up a picture of those who fought and died, and those who came home.
Ten of Shepreth's young men died and their names are inscribed on the village war memorial.
One of them, whose story is told in the Christmas newsletter, was Harold Pearce, a rifleman who was 18 or 19 when he died from his wounds in France, on 24 August 1918.
His niece Eve Hardman still has some of his letters, sent to his mother, in which he asks her to send "some nice lumps of chocolate", and adds: "Think it quite time this beastly war was over."
Mrs Hardman also has a black cape worn by Harold's mother every day after she learned of his death.
The newsletter also includes stories of the many women from the village who worked at the military hospital, including Harold's mother, Flora Pearce, who was a nurse there.
Stories of some of those who fought and returned are also included in the newsletter. On 11 November, the village unveiled a new memorial bearing the names of the 34 survivors.
Many of the wartime stories and images will be displayed in a special World War One memorial exhibition in Shepreth Village Hall on 24 January.