Libor fine cash: £8m to go to Imperial War Museum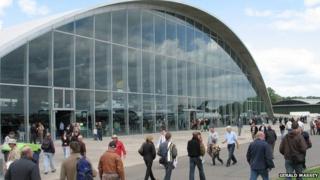 Money collected from banks fined for wrong-doing could help save educational services for school pupils at the Imperial War Museum in Cambridgeshire.
Chancellor George Osborne has offered £8m to Duxford museum after a plea by Cambridge South MP Andrew Lansley.
The museum had identified £2m in cuts, but needs to save £2m more by closing its primary school education service.
Mr Osborne said he had money from Libor fines paid by banks. The museum said it was waiting for confirmation of this.
Several institutions had been fined hundreds of millions of pounds for manipulating inter-bank interest rates (Libor).
"I am determined that the fines levied under Libor are used to help those who are most deserving," Mr Osborne said in a letter to Mr Lansley.
History important
"As a result I would like to offer £8m of support to the programme over the period 2015-19."
"Some 50,000 pupils visit Duxford on school trips every year," Conservative MP Mr Lansley told the chancellor in a letter.
In reply Mr Osborne said: "I think the continuation of a project such as this undoubtedly fits the bill.
"The focus on the Great War and other forthcoming commemorations make activities like this doubly important."
The Imperial War Museum at Duxford said it was waiting to hear from the Treasury that the money was available and would then make a decision on the future of the service.