Prickwillow telephone box 'blinged up' as Christmas bauble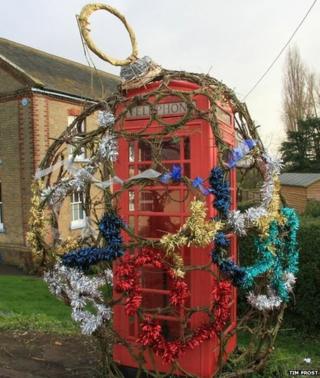 A Cambridgeshire village has "blinged up" its red telephone box as a giant woven willow Christmas bauble.
This is the fourth year that artists from Ouse Life Drawing Group have decorated the box in Prickwillow.
Artist Jane Frost admitted the decoration, which is not yet complete, was "not meant to be tasteful".
"It's making people smile but it's basically bling; a bit silly and fun. This is Christmas, and we don't do 'tasteful' at Christmas," she said.
The environmental and community artist made the bauble from woven hoops of willow, together with four other artists from the group and a few schoolchildren.
"It took about three days to get to this stage, but there's more bling to come, including some solar lights," Mrs Frost said.
On Sunday 14 December the village is holding a "bling and sing" event where people are invited to come along, add more decorations to the giant bauble phone box, and sing carols.
The artists' group has been decorating the box, which the village owns, since 2011 when people were invited to fill it with handmade angels.
The next year it was wrapped up as a giant Christmas present, and last year it was disguised as a chimney pot with a sleigh on the top.
Mrs Frost said the bauble would be dismantled in early January and the willow reused by the art group.