Peterborough District Hospital demolition starts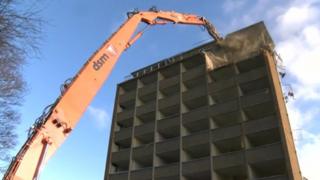 Demolition work has begun at the site of a former hospital in Peterborough.
The district hospital on Thorpe Road was sold by Peterborough and Stamford Hospitals NHS Foundation Trust for £7.44m in November.
The new owner, Lands Improvement Holdings (LIH), plans to build up to 350 new homes and a primary school on the site.
Demolition is expected to take about six months after which the developers will begin work.