Christmas 'tree bank' in Cambridgeshire to 'spread cheer'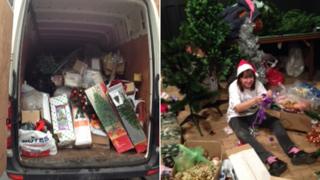 A woman has set up a "tree bank" for people who cannot afford a Christmas tree.
Three years ago Hayley Dolbear from March, Cambridgeshire, could not afford a tree so a neighbour gave her one.
Last year she appealed for unwanted trees for her new venture to "help spread cheer to those in need".
About 150 trees and decorations are now being delivered to food banks and charities.
"Some years ago I had to make a decision about whether to get gifts for my two children, or a tree," Miss Dolbear said.
Charity shops
"When a neighbour offered her unwanted one I just burst into tears."
Now in "a much more stable place", Miss Dolbear said she wanted to help spread the Christmas cheer to other people in need.
She began appealing for unwanted trees last year.
"People often upgrade their tree and this is better than sending them to landfill, " she said.
Many trees came from charity shops which were "inundated", but other people turned up at her door offering trees and decorations.
A friend stored everything for a year and the trees have now been moved to St John's Church hall.
'Angel at my door'
The vicar, the Rev Clifford Stocking, said he was pleased to help when Miss Dolbear asked if she could put "a few trees" in the hall.
"I wasn't expecting 150 of them, but I think it's a brilliant idea," he said.
Miss Dolbear said: "Someone helped me when I really needed it and was too proud to go to my family.
"When they turned up with a tree it really was like having an angel at my door."
The first trees and bags of decorations were given out at the town's food bank on Tuesday and more are being delivered to a homeless charity in Wisbech on Friday.