Peterborough murdered boy Rikki Neave's mother in new plea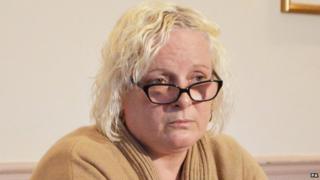 A mother cleared at trial of her son's murder has made a fresh appeal for information about the crime on the 20th anniversary of his death.
Six-year-old Rikki Neave's naked body was found in woods near Peterborough's Welland Estate in November 1994.
He had been strangled and his mother Ruth, who was initially accused of his murder, has now claimed police pursued her as an "easy target".
She later admitted child neglect and cruelty and was jailed for seven years.
A national newspaper branded her Britain's most evil mother but she has insisted she had never hurt a child.
Mrs Neave, now 45, accepts the perception of her guilt still lingers.
At a press conference at the Oliver Cromwell Hotel in March, Cambridgeshire, she appealed for new information to catch her son's killer.
She also said Cambridgeshire Police had wrongly charged her with murder.
Mrs Neave said she now had evidence Rikki was killed by a sex abuse gang and this had been handed to Cambridgeshire Police.
But her daughter Rochelle, 23, believes her mother should now drop the case.
"Although I was only young, I can still remember the abuse," she said.
"There was never any food in the house. She spent all her money on drugs.
"She should let it lie. I don't think the police will find anybody else responsible."
Her comments were echoed by protesters, who gathered outside the hotel as Mrs Neave made her plea.
'No fresh investigation'
Protester Steven Fox, 45, said she should stop pursuing her action.
"As a single dad bringing up two boys who suffered abuse from their mother, I don't think it's appropriate," he said.
"The local community still feels very strongly about what she did."
Det Supt Paul Fullwood said any action taken by the family against Cambridgeshire Police was "a matter for them" but they were keeping an open mind on the case.
"We had a positive meeting with Mrs Neave and her husband Gary and have agreed to re-examine a number of matters," he said.
"This will take some time to do properly. At this stage there remains insufficient evidence to start a fresh investigation.
"However this case will always remain open until those responsible for the tragic death of Rikki can be brought to justice."