Libyan Bassingbourn cadets sex charges prompts apology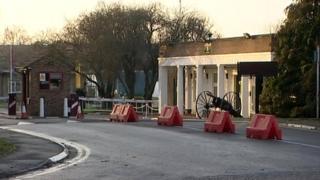 The Army has apologised after five Libyan cadets were charged with sexual assaults in Cambridge while they were being trained at a nearby base.
About 300 soldiers arrived at Bassingbourn Barracks in June.
Cambridge council leader Lewis Herbert said the Army had "expressed its regrets" in a letter.
The Ministry of Defence (MoD) is investigating events and will report to the prime minister - but Mr Herbert has called for a public inquiry.
The cadets were the first of about 2,000 expected to be trained as part of a government agreement aimed at ensuring Libya's security.
'Promise of dialogue'
At the time, the MoD said the cadets would only be allowed on escorted trips from the barracks, but for a period these rules were relaxed.
After three were charged with sexual assaults and two were charged with rape in October, the MoD made the decision to send the remaining recruits back to Libya two weeks earlier than expected.
In a statement released earlier this month, the MoD described the disciplinary issues as "completely unacceptable and a matter of regret".
Mr Herbert has written to Prime Minister David Cameron expressing concern about the lack of communication from the MoD to the city council.
He has called on Mr Cameron to set up an independent inquiry addressing concerns of residents, councils and potentially some of the victims of the attacks.
Mr Herbert also wrote to the commanding officer of Bassingbourn Barracks and has now received a letter of apology from the Army.
"Given the very serious nature of these assaults it is right that the Army has apologised. I welcome this apology and the commitment to involving us in the review," he said.
Mr Herbert said the council expects to meet MoD representatives next week to discuss concerns about the breakdown in discipline at the base.
"I welcome the promise of dialogue with the council about what went so badly wrong and how it can be avoided in future," he said.
A MoD spokeswoman said: "We have been clear that the behaviour of a small number of the Libyan trainees was completely unacceptable and had a serious impact on members of the local community.
"The MoD is currently reviewing all aspects of the training programme at Bassingbourn including disciplinary issues.
"We will, of course, work with Cambridgeshire local authorities and Cambridgeshire Constabulary to ensure we reflect local issues.
"We will inform the House of Commons of its findings in due course, and the conclusions will inform National Security Council decisions about any future training programmes for the Libyan security forces."