Cambridge Lion Yard lion roars again at university rugby club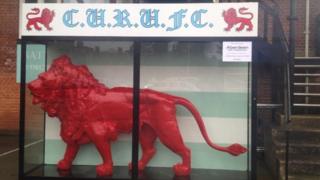 A large wooden statue of a lion which took pride of place in a Cambridge shopping centre for nearly 25 years has found a new home.
The three-tonne red lion was installed in Lion Yard when the centre opened in 1975. It was removed in 1999 during a refurbishment and kept in storage.
It has now been permanently loaned to Cambridge University's rugby club, whose emblem is a red lion.
Next year it is expected to be elevated to a prominent position at the ground.
Mystery surrounded the whereabouts of the lion when it failed to reappear on its plinth at the heart of the modernised shopping centre.
A number of campaigns were started on social media to bring it back, however an e-petition attracted just one signature.
On Wednesday afternoon the lion was unveiled in a new glass cage at Cambridge University Rugby Union Football Club's ground on Grange Road.
'Powerful and iconic'
While some members of the "return the red lion statue to its natural habitat in Cambridge's Lion Yard" Facebook group welcomed its return, others were not so happy to see it placed so far away.
Chairman of the rugby club, Nick Bennett, said the club had approached the shopping centre's management team to ask about the location of the missing lion and began negotiations to bring it to the club.
"A red lion is the crest of the club and the emblem can be seen everywhere... it is a very powerful and iconic symbol."
The lion is currently being housed in a specially-made glass case which Mr Bennett said was both weatherproof and vandal-proof.
A spokesman for Lion Yard said the rugby club was the "perfect fit", and added: "We know they will protect him from harm."