Cambridgeshire police corner wallaby on March outskirts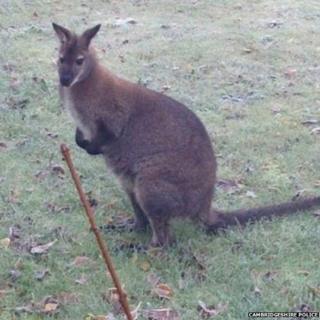 Stunned police officers chased and caught a runaway wallaby in a "surreal" encounter.
The animal was spotted "sitting by the side of a road" on the outskirts of March in Cambridgeshire on Tuesday.
PC Dotty Stott and Sgt Richard Stott managed to move the animal away from the traffic before it escaped and the pair chased it across a garden and fields.
The wallaby's owner was located and the animal was returned safely.
"It was a bit surreal, to be honest," PC Stott said.
"We thought the traffic was slowing for a speed camera and then my sergeant leaned over and said, 'There's a kangaroo over there'."
After they made sure it was safely away from the traffic, the wallaby took off across some gardens, with the officers in hot pursuit.
"Once we had it sort of cornered, a woman came out of the house and said she knew the owner," PC Stott said.
"Then it made the great escape again and hared off across a field."
Once the owner was found, the officers returned to less "surreal" duties.