Four horses killed in Milton train crash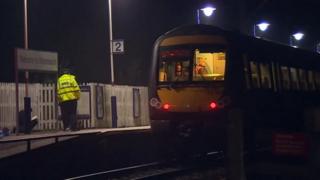 At least four horses have been killed after being struck by two trains in Cambridgeshire.
The animals were hit on the Fen Road crossing at Milton, between Waterbeach and Cambridge, shortly after 17:00 GMT.
British Transport Police said one person went to hospital with minor injuries. All lines have since reopened.
Ian Dickerson, who was heading to March, said he heard a "loud bang" and rattling before the train decelerated.
The trains involved were the Cross Country service from Cambridge to Birmingham, and another from Birmingham to Stansted Airport.
Paul Clarke at Cambridgeshire Fire and Rescue Service said about 220 people were on board the Birmingham-bound train, which was made up of three carriages.
He said the train was going at "significant speed" when it struck.
Passengers disembarked at Waterbeach and following repairs the train was then moved.
Greater Anglia later tweeted its trains were being held up by more horses on the line, but services have since resumed.
Mr Dickerson said the fire service came onto the train and said they had "hit one horse, if not more".
He said one person was treated for a panic attack, but passengers in general were "quite calm".
Mr Dickerson added that the situation was initially chaotic at Waterbeach station as passengers tried to work out how to get home, but by 20:30 GMT the last of the replacement buses had left the area.
Mr Clarke said: "A number of passengers were showing signs of distress.
"The crews opened the doors of the carriages to allow fresh air to circulate and distributed water to the passengers on board."
Fire crews returned to their bases at 20:30 GMT.