Glinton family threatened at gunpoint during robbery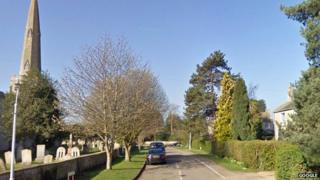 A father and his two young children were held at gunpoint in their home during an "extremely distressing" robbery, police have said.
Three men used an axe to smash through a window of Colin Gill's house in The Green, Glinton, near Peterborough, at 19:10 GMT on Monday.
They threatened Mr Gill, 51, with a sawn-off shotgun, Cambridgeshire Police said.
The men stole foreign currency, a diamond-encrusted watch and an iPhone.
Mr Gill said the robbers terrified his son, 10 and daughter, 13.
"At one point, the man with the axe started getting closer and more agitated and the others had to tell him to calm down," he said.
"My youngest son screamed out: 'Please don't kill my daddy'."
Mr Gill said the robbery had left him feeling "violated" and determined to establish who was responsible.
His wife was out of the house when the robbery happened, and was "petrified" when she returned and realised what had happened.
The family has distributed leaflets with a map of the area and police contact details in the hope more information will emerge.
Det Con Stuart Cooper from Cambridgeshire Police said: "This was extremely distressing for the victim and his two children who were in the house at the time.
"I would urge anyone who may have information, no matter how insignificant it may seem, to contact us immediately."
He said he was particularly interested in any nearby dog walkers who might have noticed suspicious activity.