Duxford Imperial War Museum proposes education cutbacks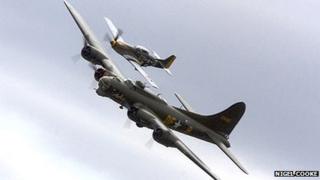 Duxford war museum could lose its education department and nearly a quarter of its workforce under plans to cut costs, a union has claimed.
Prospect said the Imperial War Museum (IWM) group wanted to cut services at its Cambridgeshire and London sites to save £4m a year.
South Cambridgeshire MP Andrew Lansley said it was "really important" Duxford's teaching was maintained.
IWM said it was in consultation with staff over the plans.
Prospect said cutbacks to education visits at Duxford would affect five jobs in the unit itself and 20 more administration and management posts. About 50,000 children visit the site each year during school trips.
'Committed to education'
The union said any subsequent reduction in visitors could spark further cutbacks, leading to the site shutting during the winter and families being charged to bring in their children, who currently go free.
RAF Duxford, south-west of Cambridge, was an important base during the Battle of Britain and is regarded as UK's best-preserved World War Two airfield, attracting thousands of visitors each year.
Last year IWM began reviewing its operations to reduce spending by £4m a year because of reductions in the grants it receives.
The cuts came at a time when it was spending £40m towards the refurbishment of its main London museum in time for the centenary of the outbreak of World War One.
Mr Lansley, a Conservative, said Duxford was the "largest primary school in the country" and young people came away with "fantastic knowledge".
The MP said he would speak to the chancellor to see if IWM could be handed an endowment from bank fines to keep its teaching maintained.
The museum group said it was "committed to education", but it had to work within the constraints of its budget. No final decisions will be made until next year.