Huntingdon assault suspect flees hospital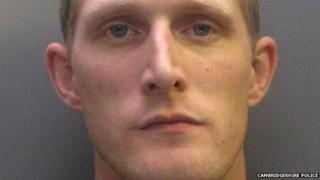 A man suspected of assault and criminal damage has escaped while being treated in hospital.
Ashton Smyrk, 26, from Huntingdon, was arrested by police on 6 November and was taken to Hinchingbrooke Hospital for an X-ray.
But he managed to evade staff the next day and escaped at about 10:30 GMT.
Cambridgeshire Police are investigating and said locating him was a "priority", although he is "not a danger" to the public.
Mr Smyrk was said to be 5ft 10in tall and was last seen wearing beige cargo trousers, white Lonsdale trainers with a stripe and a black padded jacket.