Libyans in court charged with Cambridge rape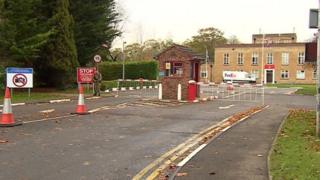 Two Libyan soldiers accused of raping a man while stationed in Cambridgeshire have appeared in court.
Moktar Ali Saad Mahmoud, 33, and Ibrahim Abogutila, 22, were being trained by the British Army at Bassingbourn Barracks.
They are charged with the rape of a man in his 20s on Christ's Pieces, Cambridge, on 26 October.
They did not enter pleas when they appeared at Cambridge Crown Court. They are due to enter a plea on 23 January.
Judge Jonathan Haworth set a provisional trial date for 5 May next year.
The men appeared via video link from HMP Peterborough and spoke through an Arabic interpreter to confirm their names.
They were arrested while undergoing training the barracks.
It came after three other Libyan soldiers were charged in connection with unrelated sex offences while also based at Bassingbourn.
The arrests coincided with other concerns over the conduct of Libyan cadets training at the base and prompted the Ministry of Defence (MoD) to send 300 soldiers back to their home country early.
It threw into doubt an agreement to put 2,000 soldiers through basic infantry and junior command training at Bassingbourn.
The MoD said it was reviewing whether Libyans could continue to train in the UK following "disciplinary issues".
The agreement was part of a pledge to support Libya's effort to improve security following the overthrow of Colonel Muammar Gaddafi in 2011.
Mr Mahmoud and Mr Abogutila have been remanded in custody.