WW1 'forgotten' stories of Cambridge Great St Mary's dead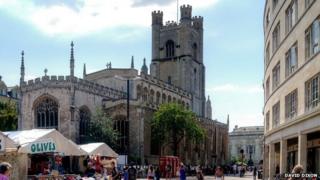 The stories behind "sometimes forgotten and overlooked" names on a Cambridge war memorial have been unearthed ahead of World War One's centenary.
The memorial in Great St Mary's bears the names of 29 members of the church who died in both world wars.
Simon Cross, said: "The memorial reads, 'Their name liveth for evermore' but the sad thing was we'd all but forgotten them."
Mr Cross is collating their stories on the church's website.
The memorial plaque lists 23 men who lost their lives in World War One, a conflict Mr Cross said had fascinated him since he was a boy.
The fact their stories seemed to have been forgotten was "my real motivation for finding out all about [them]", he said.
One of the most "celebrated" names on the list is Charles Hamilton Sorley, a soldier and war poet who only became famous when his father published his works posthumously, Mr Cross said.
A captain in the 7th Battalion of the Suffolk Regiment, he died at the age of 20 in October 1915 after being shot in the head at the Battle of Loos.
'Professors and chimney sweeps'
After his death, Capt Sorley's kit was sent back to his father. Among his belongings was a notebook full of poems which his father later published.
"It was a remarkable body of work. He was really the first of the realist war poets," Mr Cross said.
"For Christians he also wrote the very important poem Expectans Expectavi which has been made into a beautiful anthem, full of hope. His very deep faith shines through."
There is a memorial to Capt Sorley in Poet's Corner in Westminster Abbey.
"Great St Mary's has a very small geographical parish, but as the university church the social mix of its congregation is reflected in its war dead," Mr Cross said.
"The son of a university professor and Fellow of the British Academy is remembered next to the son of one of ten children of a chimney sweep.
"My aim is to tell their stories as they happened, but 100 years on."