Libyan soldiers at Cambridgeshire barracks 'seek UK asylum'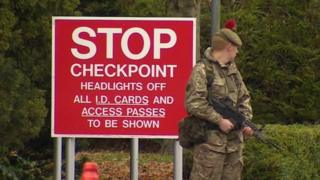 A "handful" of asylum applications has been made by Libyan soldiers being trained at a Cambridgeshire army base, the BBC understands.
The number to have applied for asylum is around five, according to Special Correspondent Lucy Manning.
It comes after 300 soldiers had training cut short at Bassingbourn Barracks after allegations recruits carried out sex attacks in Cambridge.
The Ministry of Defence (MoD) has been criticised over base security.
South Cambridgeshire MP Andrew Lansley said the MoD should have increased patrols earlier at the barracks.
He said nearby residents told him security was more about keeping people out rather than keeping the soldiers in.
The MoD is yet to respond to Mr Lansley's comments.
The recruits arrived at the base in June as part of a government agreement to train up to 2,000 cadets to ensure Libya's security.
At the time the MoD said the recruits would only be allowed on escorted trips.
'Let down'
Conservative Mr Lansley, who represents Bassingbourn, said Philip Hammond, then defence secretary, had assured him only escorted visits would be permitted.
However, it emerged these rules were later relaxed but were last week reinstated.
Mr Lansley said he "felt let down" as the MoD failed to inform him that unsupervised visits to what it called "places of interest" had been allowed.
After three men were charged with a series of sexual offences against women, Mr Lansley called on the MoD to terminate the training contract and send the cadets back to Libya.
On Monday evening, it confirmed the cadets would be returning to Libya "within the coming days".
Shortly after, two further soldiers were charged with sexual offences, bringing the total number accused of the offences to five.
Last week, two of the accused cadets, Ibrahim Naji El Maarfi, 20, and Mohammed Abdalsalam, 27, appeared before Cambridge Magistrates' Court to admit two counts of sexual assault.
Mr Lansley has called on the ministry to "account for the consequences of their programme and their failure to maintain security".
The MoD was "very conscious" people had suffered as a consequence of cadets "committing criminal offences off the base", the MP said.
"It's their responsibility to account for that," he added.
Shadow defence minister Ian Lucas said: "The training of Libyan soldiers was central to the UK Government's long-term security strategy for the region.
"Having been significantly delayed in the first instance, the UK-based training programme has now collapsed in disarray and scandal, and there are no plans to continue it elsewhere.
"The Defence Secretary (Michael Fallon) needs to explain how this has gone so badly wrong and urgently clarify the Government's strategy for helping to build a safe and stable Libya, including whether or not training Libyan soldiers is part of it."