St Neots Alice in Wonderland mural attracts crowds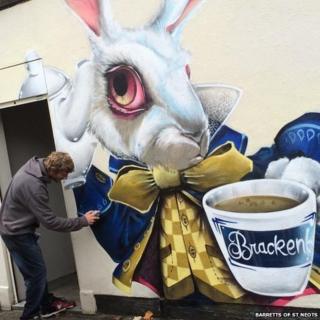 Crowds of people gathered to watch a graffiti artist transform an independent department store's walls over the weekend.
Family-owned Barretts of St Neots, Cambridgeshire, commissioned a local artist known as KAK to paint scenes from Alice in Wonderland.
Store manager Lisa Wyatt said customers referred to the shop as a "wonderland" so the theme seemed appropriate.
"We're over the Moon with it and people seem to love it," she said.
It took KAK two days to complete the work on the shop's rear wall.
"He is well known in the area and we've admired some of his other graffiti so thought this would really brighten up the drab wall," Mrs Wyatt said.
The work features the March Hare from the Mad Hatter's tea party and mushrooms eaten by Alice from the Lewis Carroll book.
Hundreds of people have commented and shared images of KAK's work since the shop began posting then on social media websites on Saturday.