Devolution 'city state' future for Cambridge?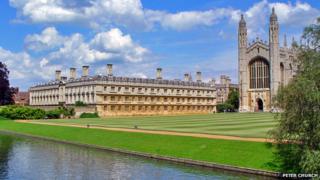 With a £12bn-a-year gross domestic product that trumps the likes of Albania and Iceland, Cambridge is at the forefront of the push for devolved powers. Why?
Sir Isaac Newton's third law of motion is that for every action there is an equal and opposite reaction.
While it's unlikely the Cambridge scholar - and university MP - had politics on his mind at the time, his centuries-old observations remain an apt prism for the devolution debate.
In answering one question, the Scottish referendum triggered others, including whether regions and cities in England should seek greater autonomy.
Newton's intellectual home is a front runner towards devolution.
The idea of local taxation and the ability to spend without deferring to Whitehall has piqued the interest of, among others, both Cambridge City and Cambridgeshire County Council.
Such freedom, says the county council, should unlock "greater growth", enable greater investment in housing and "reflect real needs".
Earlier this year, the city and county councils - along with South Cambridgeshire District Council and others - signed the Greater Cambridge City Deal with the government.
Contained within the deal is a test of local power to generate economic growth.
It starts with £100m from local government for transport and housing in five years from 2015.
If the local partners can prove their use of the cash has driven economic growth, a further £400m will be released in the years that follow.
The terms of the deal also require the three councils to pool some of their funds and powers, an arrangement which could be a precursor to a single unitary authority for the greater Cambridge area.
Could this be the start of "Devo Cam"?
---
Cambridge and the people who live there
Population of 123,900
About a fifth of the population (approx 28,500) are students at Cambridge University and Anglia Ruskin University
About 10% of Cambridge University's undergraduates are from outside the EU representing 65 countries
Cambridge is home to multi-billion pound companies such as ARM and Autonomy
---
Lewis Herbert, leader of Cambridge City Council, hopes so.
"It (the deal) gives us the power to move on," he told the BBC. "But it is essentially within a set of rules that Whitehall lays down so it has severe limitations and it doesn't actually create the partnership with the wider region that is needed.
"What's missing is a mind-set which encourages and allows decisions to be taken locally.
"Well we don't want a lot (of new powers) - the ability to work with our neighbouring councils on housing, on transport, on economic development and on issues like schools and quality of life.
"And what we would like is the freedom to get on and deliver."
Its champions say Cambridge, a member of the Key Cities group, a band of 24 "mid-sized" cities seeking "single-city budgets", is in an unusually good position to "deliver" a devolved power city.
Cambridge has more patents per 100,000 people than the next top cities combined, one of the world's best universities and the UK's largest cluster of technology businesses.
Yet for all its economic success, ancient buildings and green spaces, Cambridge is a city with problems.
There is a dire shortage of housing that is affordable, especially in the city centre, and a recent survey of 4,800 workers in Cambridge found concerns about transport, lower than average education standards in schools and a lack of activities.
This, says Ian Mather, chairman of Cambridge Ahead, an academic-business member group, poses a significant challenge to the city.
But is taking back powers to tax and spend locally the answer?
"There is a sense that this could work," says Mr Mather. "There is increasing pressure on public spending as a whole and the need for a greater return on the money we as taxpayers spend."
The question, he says, is whether taxpayers' money can be better spent by local rather than central government.
And for what purpose?
In the Key Cities group's Charter for Devolution, the word "growth" appears 107 times, "business" 140 times and "economy" 33 times. The word "health", by contrast, appears just four times, "wellbeing" just twice and "happiness" not at all.
This does not surprise Michael Kitson, a senior lecturer in international macroeconomics at Cambridge University.
The focus of the current debate on devolution, he says, "is directed at economic outcomes".
"But devolution can be a useful mechanism for promoting well-being as policy can be more directly concerned with local issues and concerns."
In Cambridge, he says, these local issues might include "congestion, open spaces and cultural provision".
"And there are higher levels of trust and social engagement in areas where people believe that they have a voice."