Addenbrooke's Hospital entrance blocked as water main bursts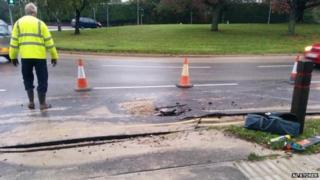 The main entrance to a Cambridge hospital has been blocked after a water main burst, flooding the road.
Staff and patients have been told to use alternative entrances to Addenbrooke's Hospital after the mains burst at about 04:00 BST.
Only ambulances are being allowed to use the entrance off Hills Road.
Cambridge Water said restrictions were likely to remain in place until Wednesday morning while repairs to the road surface were carried out.
No properties are without water as a result of the burst, the company said.
A spokesman for Addenbrooke's Hospital said staff and patients should use the alternative entrance to the site via Long Road to Robinson Way.