Cambridgeshire Police to probe informant recruitment claims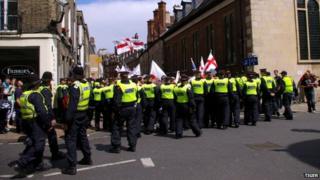 A police force is to investigate complaints from campaigners who say they felt intimidated by officers who tried to recruit them as informants.
Four people say approaches from Cambridgeshire Police caused them to give up campaigning or left them stressed, The Guardian reported.
The case was referred to the Independent Police Complaints Commission (IPCC) in August.
The IPCC said the inquiry could now be handled by officers in Cambridgeshire.
It is understood the campaigners were involved with environmental, anti-fascist and anti-cuts groups.
An IPCC spokeswoman said the complaint, made by four people, alleged that two officers had "attempted to recruit them to infiltrate various political organisations".
'Covert tactics'
She said it had been decided the case could be passed back to the Cambridgeshire force for "local investigation".
Cambridgeshire Police confirmed an internal investigation had been opened but would not comment further.
Last year, a video emerged purportedly showing an unnamed Cambridgeshire officer trying to persuade a student to pass on information on potential supporters.
Cambridgeshire Police admitted it tried to recruit campaigners but said officers acted "in accordance with the law".
Lawyers at civil liberties law firm Bindmans are representing the four campaigners.