Abuse doctor Myles Bradbury 'worked as a locum'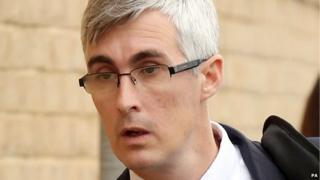 A paedophile doctor worked at a hospital for 10 months longer than first revealed, the BBC has learned.
Myles Bradbury, who has admitted abusing boys at Addenbrooke's Hospital in Cambridge, worked as a locum between January and October 2007.
But the hospital had only made public that he worked between 2008 and 2013.
The hospital has not said why it did not release the information, or whether it had contacted people treated by Bradbury during the 10-month period.
Bradbury, a 41-year-old paediatric haematologist from Herringswell, Suffolk, pleaded guilty last month to 25 offences, including sexual assault and the making of more than 16,000 indecent images.
The offences were committed at the Cambridge hospital against 18 victims, some as young as eight, who were in his care between 2009 and 2013. He is yet to be sentenced.
A hospital spokesman said: "We can confirm that Myles Bradbury worked at CUH [Cambridge University Hospitals] in 2007 as a locum.
"He passed all relevant national safety checks before he started this temporary role. We shared this information with the police and relevant authorities as part of the investigation.
"The same criteria for contacting families of patients has been used throughout. We continue to offer support to families and patients via our helpline."
The hospital has previously been forced to apologise for only notifying 800 families of patients that Bradbury saw regularly and not getting in touch with all families that had contact with him.
It has asked concerned families to get in touch.
Cambridgeshire Police said it is aware Bradbury worked in Cambridge in 2007, but had not been notified of any offences that have come to light during that time.