Campaigner 'disappointed' as Ely's £30m bypass scheme backed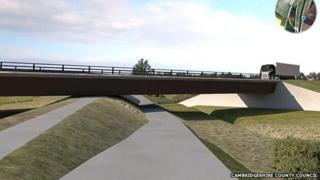 Calls for a public inquiry into plans for a £30m bypass around a Cambridgeshire city have been rejected by the government.
The proposed road south of Ely designed to resolve bottlenecks is to go ahead.
The plans were backed by district and county councils, but campaign groups claim the one-mile (1.7km) bypass would harm views of the city's cathedral.
Leading campaigner Michael Monk, said he was disappointed the government had decided not to review the plan.
Mr Monk, from the Campaign to Protect Rural England, said a public inquiry should have been held but this was effectively turned down by the government.
"We are disappointed because the opportunity to air all the different views formally in a public inquiry with an independent inspector would have been the best approach," he said.
"Cambridgeshire County Council has made the decision having already made the proposal themselves - so has acted as judge and jury."
Both East Cambridgeshire District Council and Cambridgeshire County Council's planning committees approved the proposal.
James Palmer, the district council's leader, said news Secretary of State Eric Pickles would not call for a review was "fantastic - not just for the people of Ely and Soham but for businesses across Cambridgeshire".
Traffic bottlenecks often build up south of the city because of a level crossing.
A survey found it closed for up to 35 minutes every hour and congestion was likely to increase as more trains pass through Ely following rail improvements.
The A142-A10 link will be paid for by the county council with contributions from East Cambridgeshire District Council, Network Rail and other bodies.
Cambridgeshire County Council will now create detailed design work before choosing a contractor, but has not yet given a date for when work on the bypass will begin.