Aukse Medvedevaite murder: Peterborough man jailed for 22 years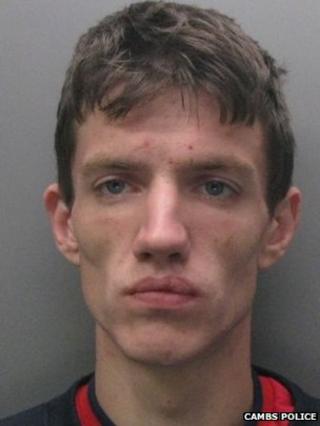 A father who admitted murdering his two-month-old baby daughter has been jailed for at least 22 years.
Lithuanian agency worker Aurimas Medvedevas, 23, repeatedly struck, bit and violently shook Aukse Medvedevaite, who died in Peterborough last year.
Medvedevas, of Clifton Avenue, Peterborough, initially denied murdering the baby, but changed his plea to guilty at the Old Bailey.
Judge Timothy Pontius described the case as "distressing and tragic".
He said the brutality of the attack on a defenceless baby almost "defied belief" and the bite marks on her head were "particularly shocking".
The fact that baby Aukse suffered considerably for hours before her eventual death "demonstrated a callousness that is as incredible as it is inhuman", he added.
'Beyond comprehension'
Aukse was found dead in her cot by her mother, 22-year-old Dzesika Urbikaite, when she returned home from work at about 22:30 BST on 5 September last year.
Medvedevas told police he had been in sole care of the baby during that time, but denied hurting her.
He later accepted he had caused the injuries to his daughter and admitted murdering Aukse.
Medvedevas said he had shaken his baby and thrown her on the bed and from there she fell to the floor.
There were bruises and abrasions on Aukse's body as well as two bite marks on her head. One bite mark matched the defendant's teeth imprint, the court heard.
A post-mortem examination revealed internal injuries included a deep cut to her liver and five rib fractures.
The judge said: "The murder of a helpless infant only a few weeks old in circumstances of brutality which almost defy belief is an appalling crime beyond comprehension."
'Utter terror'
Aukse's mother wept quietly in court as her partner was sent down.
Defence lawyer Sallie Bennett-Jenkins QC said Medvedevas had shown "heartfelt" remorse.
She said: "The horror of having realised that his child was badly hurt will never leave this young man.
"What he does recall is holding her. He recalls she died in his arms and afterwards he was terrified as to the hurt he had inflicted on her and his girlfriend who he loved very much.
"He was in a state of utter terror and hurt."