Cambridge park and ride passengers 'fall 15%' after charge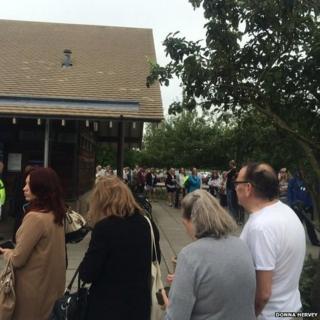 Passenger numbers at Cambridge's park and ride sites have been "devastated" since a £1 parking charge was introduced, bus firm Stagecoach said.
Director Andy Campbell said numbers had fallen by up to 15% some weeks, but blamed the new complex ticket machines for the reduction more than the charge.
The county council's new camera-operated charging system has created long queues and left people frustrated.
The council said it expected any dip in numbers to be "short-lived".
'So complicated'
The authority started the £1 charge in July to cover the £1m annual maintenance costs at its five sites in Milton, Trumpington, Babraham Road, Newmarket Road and Madingley Road.
About 3.8 million passengers use the park and ride system every year.
Stagecoach said comparing its weekly figures to last year, passengers had fallen by up to 15% some weeks, tripling the 5% estimate the council gave prior to the charge being introduced.
The new camera-based system, where users have to enter their vehicle registration number and find the photograph of their car before paying, has sparked anger among some commuters with the machines causing long queues and people missing buses.
"I can understand the council's position, they've got a budget shortfall... but they've made it so complicated I think that's a bigger deterrent than the £1 charge," said Mr Campbell.
"We were up to nearly four million passengers a year and that's just been devastated."
He said unless the situation improved the company would have to "review" its level of service.
Joseph Whelan, head of passenger transport for Cambridgeshire County Council, said: "We're carrying around 3.8 million passenger journeys a year which is good news.
"That's been rising steadily over the past couple of years, so any dip we expect to be short-lived.
"We think the machines and the system we've got is the best available option."
He added the best way to avoid queues is to pay the charge online before travel.