Oompa-Loompas in mass Peterborough charity skydive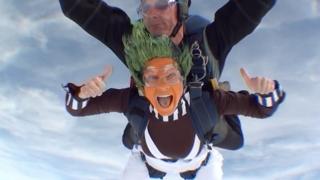 Forty charity fundraisers threw themselves out of an aeroplane above Peterborough dressed as Oompa-Loompas.
The Sibson airfield event was organised by Buckinghamshire-based Roald Dahl's Marvellous Children's Charity.
The Oompa-Loompas made tandem skydives from 13,000ft (3,960m) to raise money for specialist paediatric nurses for seriously ill children.
The Oompa Loompa characters originate from Dahl's 1964 children's book Charlie & The Chocolate Factory.
Eve Robinson, the charity's head of fundraising and marketing, said: "It was an absolutely marvellous event and it should raise the profile of what is a small, growing charity.
"We aim to provide specialist paediatric nurses to work in hospitals working with children with rare conditions where there are gaps in the NHS.
"The idea came about because it's 50 years since Charlie & The Chocolate Factory was published and everybody loves Oompa-Loompas."
The charity, which is based at Great Missenden, said it cost about £50,000 to provide each of its 50 nurses to hospitals across the UK.