North Bank Whittlesey accident blackspot closes for safety work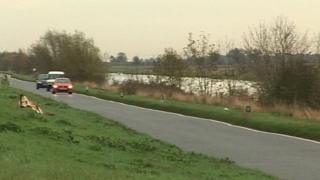 A notorious accident blackspot in Cambridgeshire is to close for new safety measures to be put in place.
During November and December last year there were seven accidents, including two fatalities, along one stretch of North Bank near Whittlesey.
Barriers were installed and the speed limit was temporarily reduced.
The road will now close for the next three days for a new non-slip surface to be laid. The reduced speed limit of 40mph will also be made permanent.
Peterborough City Council said the entire width of the North Bank bend fronting the River Nene will be resurfaced with high Polished Stone Value, a surface that "reacts really well in wet conditions to cars braking".
Diversions have been put in place.