River Cam Weil's disease trace cancels Cambridge triathlon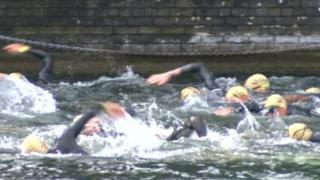 A triathlon due to take place at the end of the month has been cancelled after a Cambridge river tested positive for potentially fatal Weil's disease.
The first City of Cambridge Triathlon scheduled for 28 September had attracted more than 1,500 competitors.
Director Adam Moffat said the River Cam also exceeded the standards for Enterococci and Escherichia Coli.
The decision was "devastating", he said, but "alternatives" for the swimming leg were not deemed suitable.
Entry fees for all those who signed up for the event will be refunded, Mr Moffat said.
Organisers One Step Beyond Promotions had been testing the water quality in the river for the past year, in accordance with guidelines set out by the International Triathlon Union.
Several tests carried out before the event was announced had "returned acceptable results" they said.
However, further tests in July revealed traces of bacteria making the water unsuitable for competitive swimming.
---
What's in the water?
Weil's disease is the most acute form of leptospirosis, a type of bacterial infection spread by animals. It can cause life-threatening conditions including organ failure and internal bleeding
Enterococci and Escherichia coli are bacteria that are not directly harmful but can indicate the presence of pollution mainly from sewage or livestock waste
Source: NHS Choices/Environment Agency
---
A spokesman for the event said: "It is likely the recent heavy downpour of rain led to this test result and does not mean this is a permanent condition of the river's health."
Mr Moffat said alternatives including switching the swimming section to Jesus Green Lido or changing the event to a duathlon (run-bike-run) had been considered but "the best option was to cancel the event".
"The safety of our competitors is and always will be our main priority.
"We are really disappointed for all those people who have been training hard for the event."