Police find 'hanged man' is art model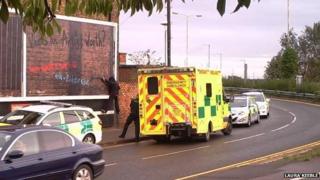 Emergency services called to reports of a body hanging from a billboard in Peterborough arrived to discover the "victim" was an artist's dummy.
Laura Keeble created the work featuring a life-like model of a graffiti artist suspended from a billboard as part of an art trail around the city.
After a caller informed police a body was hanging near Mayor's Walk, officers and paramedics attended.
Miss Keeble said it was "not the level of response" she was expecting.
Ten billboards were created by artists and installed in the city by art group Metal.
The intention is to pose questions on each, and encourage viewers to think about the art and their answers as they walk around the "outdoor gallery".
Miss Keeble's work, created in conjunction with poet Mark Grist, asks "what's an artist worth?" and features a sculpture of a hooded graffiti artist suspended from the billboard as he paints it.
'Body hanging'
She installed the work on Saturday but within hours both the East of England Ambulance Service and Cambridgeshire Police had been called by a concerned member of the public.
A police spokesman said they were called to reports of "a body hanging from a structure".
The ambulance service was informed "a patient was in arrest due to hanging".
The rescue drama was captured on a camera Miss Keeble had put on a tree to record "public interaction" with her work.
"I imagined images of people poking the sculpture or even applying their own marks to the billboard wall - not on any level the response from the emergency services that we see in the images," she said.
"I am obviously concerned that someone was worried enough to call the services, although if they had gone to see if the 'person' was OK they would have very clearly seen the sculpture was made from expanding foam, sellotape, plaster and spray paint."
Both the police and ambulance service said they "occasionally get calls that turn out to be false alarms, as in this case".
The police spokesman said while they encouraged people to call 999 for life-threatening emergencies, he added: "They should try and get as much information as possible before they call."
The model has been removed from the billboard "to prevent further calls or distractions", he said.