Bereaved Cambridge family plead for stolen phone photos return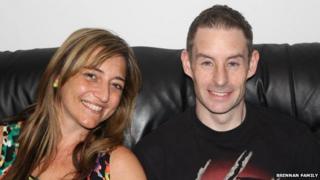 The family of a man who recently died has pleaded for the return of a stolen mobile phone containing "irreplaceable photos" of him.
Tony Brennan, 36, of Cambourne, Cambridgeshire, died on Monday from pancreatic cancer.
His partner's White Samsung Galaxy was stolen from a changing room at Asda in Cambridge on 31 July.
His brother said the family did not care who took it, but the photos were needed to help "the healing process".
Mr Brennan's partner, Claire Murgo, had a number of recent photographs of Mr Brennan - known to his family as "Bones" - on the phone, which had a flower-patterned case.
'Memories taken'
His brother, James Brennan, said these were particularly important to the family as Tony was only diagnosed four weeks ago and the images documented his last few weeks.
"The fact the phone was stolen is not the issue, it's that the phone memory/sim card contained over 400 personal photographs and videos of Bones with quite a substantial amount of recently taken ones," he said.
"This is now really important to all the Brennan family as Bones passed away in the early hours of Monday morning this week and a lot of the memories of him have been taken away from us."
Mr Brennan said the phone or sim card could be left anonymously at the shop in the Beehive Centre, marked for the attention of Claire Murgo.
The family's plea was published on the BBC Cambridgeshire Facebook page.
In fewer than 24 hours it had been seen by more than 35,000 people.