Fallen tree strikes March cemetery graves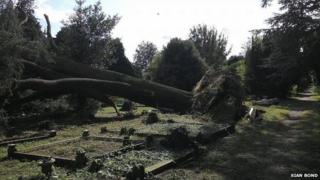 A large tree has fallen over in a Cambridgeshire graveyard crushing some of the headstones.
Sian Bond, who lives close to Station Road Cemetery in March, said she heard "a crash like thunder" at about 18:00 BST on Tuesday.
"This morning I saw headstones had been toppled and one had fallen into the hole where the tree had been uprooted."
Fenland District Council said officers examined it earlier and would "assess the damage fully in the morning".
The cemetery is in the grounds of St John's Church in the town.