Royal Mail Peterborough staff walk-out affects 4,000 customers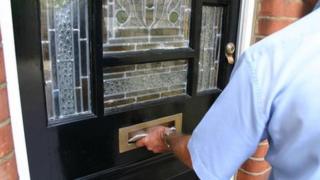 Postal deliveries to about 4,000 Cambridgeshire customers were disrupted when about 70 Royal Mail staff walked out over a management dispute.
Sorting and delivery staff at the Orton Southgate office in Peterborough walked out at 06:45 BST.
A union representative said staff had been "reassured their concerns will be listened to" and agreed to return to work on Saturday.
The Royal Mail said: "We remain hopeful the issues can be resolved locally."
Steve Butts, divisional representative for the Communications Workers Union's Anglia region, said: "The return to work has been facilitated and staff have been assured their concerns will be listened to and taken seriously by Royal Mail."
'Unballoted action'
One worker claimed staff had concerns about "bullying and harassment" within the office.
Mr Butts said a number of concerns had been raised by the postal workers but added: "There was one incident, and that was the straw that broke the camel's back."
Royal Mail delivery director Steve Molloy said: "Royal Mail can confirm that around 70 of the 130 colleagues at Orton Southgate Delivery Office, which covers deliveries to the PE2, PE7, PE8, and PE9 postcode areas took part in unballoted industrial action this morning.
"We would like to apologise to customers for the disruption of their mail service. We have drafted in additional resource including managers who are doing their very best to deliver mail and limit the impact of this industrial action on our customers."