Cambridge University Library photos to go on display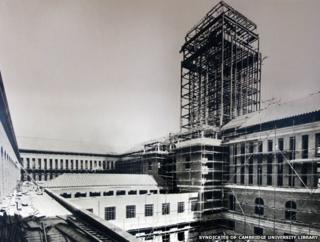 A collection of more than 200 hidden photographs that chronicle the building of Cambridge University Library are to go on public display.
The images, held in three albums, record the library's 1930's build and the job of moving a million items into the West Road premises.
The albums were found during research into the library's 80th anniversary, which takes place in October.
A spokesman said the pictures marked a "significant time" for the building.
Taken by library staff member Robert George Pilgrim, his colleagues and the project's consulting engineer Burnard Geen, the photographs provide a detailed image of how the library grew up out of necessity and how staff undertook the task of relocating its treasures.
Librarian Anne Jarvis said: "The public interest in the volumes has been such that we are keen to share them more widely.
"Putting the volumes on display in the entrance hall cases will allow everyone the opportunity to see them first-hand."
In the 1920s, it was noted that the University of Cambridge's old library was in danger of bursting at the seams with its contents occupying 20 miles of shelves, so playing fields belonging to King's and Clare Colleges were eventually chosen as the new site.
The new library was opened on 22 October 1934 by King George V.
It now holds approximately eight million items, occupying 93 miles of shelves, increasing by just less than two miles a year.
The albums, alongside other material related to the UL's 80th anniversary, will be available for public viewing for four weeks from 10 November.