Cambridge Folk Festival celebrates 50th year
Friendly, eclectic and organised by a fireman, the first-ever Cambridge Folk Festival could easily have been the last. Half a century later, and the festival taking place this weekend is known around the world as a premier music event.
Look down the list of performers at the first Cambridge Folk Festival and one name in particular leaps out.
He was a last-minute booking, a relative unknown and paid just £15, the equivalent of £250 today.
The name? Paul Simon. He had just released I am a Rock.
Cambridge Folk Festival, held at Cherry Hinton Hall, near Cambridge, continues to attract the big names. Though it would be lucky to attract Simon now for £15.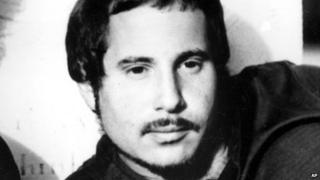 Andrew Kendon, 72, attended the first festival and went on to perform at the event as part of the Cambridge Crofters.
"It was a great first festival," he says.
"The marquees were just canvas with a lot of rope and wooden poles. I remember the Clancy Brothers and Tommy Maken, who arrived in an open-top Ford car.
"My favourite memories are not so much what was going on - on the main stage - as with the folk club area where people, like Arlo Guthrie [who later became famous for his song Alice's Restaurant], just turned up. And famous names who had just performed on the stage, very often came and sat in on sessions.
"The best thing about the festival, and always has been, is that it is a family festival, and the music off-stage on the campsite which you find when just wandering about."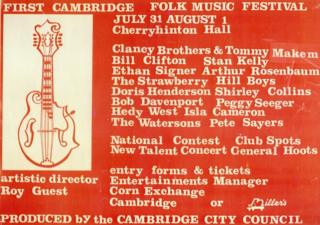 Mr Kendon recalled how Paul Simon had been seen at the Cambridge Folk Club and organisers brought him to the festival after finding out he was playing a private party in nearby Shelford just before it.
"Paul Simon was quite a small chap," he says.
"I thought his music was quite nice."
Being a late addition, Simon did not feature on the first festival poster but was included in the festival programme which said he was performing a 30-minute set.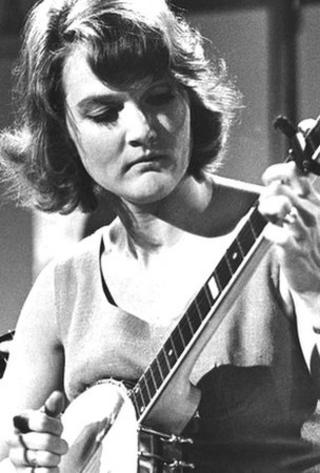 The programme declared: "During his [Paul Simon's] years as a singer he has learned to understand the aspirations and ideals, the trials and disappointments to which city dwellers are exposed."
Those aspirations were shared by organisers of the festival, which this year features the likes of Van Morrison and Sinead O'Connor.
But the story starts with a the visit to the Newport Jazz and Folk Festival in the early-1960s by the Cherry Hinton resident Jack Sharkey, now 85 years old.
He recalls overhearing a conversation - as the first festival came to an end - in which two councillors from the ruling Conservative group said if the event did not make any money then it would be the last.
It made about £100, about £1,600 in today's money. Not much, but enough.
Its first director and organiser was firefighter and political activist Ken Woollard who continued to be a driving force behind the festival until his death continued in 1993.
Mrs Woollard, his widow, said: "What always amazes me is that nobody ever forgets Ken. It is a lasting legacy."


Cambridge Folk Festival through the years
•Comedians Jasper Carrott and Billy Connolly both appeared the festival while they were both primarily folk artists
•Singer songwriter Arlo Guthrie, who came to the first festival as a punter, headlined the festival in 1974
•Loudon Wainwright III is back this year. His children, Martha and Rufus, have each headlined the festival as solo performers
•Another regular at the festival is famed folk singer and guitarist Martin Carthy, who taught Paul Simon to play Scarborough Fair.
Source: Cambridge Folk Festival
As for Paul Simon, well he returned to the USA and achieved international stardom first with Simon and Garfunkel and then as a solo artist.
"Paul Simon cost Ken £15, you would not get him for that today," said Mrs Woollard.
Peggy Seeger, now 79, was a headliner in 1965 and has a new CD coming out in September.
"I remember it very well," she says, reminiscing about that first festival.
"I was not really a festival person at the time. I remember you could hear the other stages and they had not solved the auditory problems with speakers and there was an echo.
"I do remember enjoying thoroughly the atmosphere of the festival and I remember Ken Woollard as being very kind."
She did not realise Paul Simon was at the festival.
"I would have wanted to meet him," she said.
"I want to meet him now. He's one of those people you can listen to over and over again," she said.
Folk music expert Dr Fay Hield, who teaches in Sheffield University's music department, said: "The festival has made a great contribution to bringing lots of small clubs together and creating a national scene, a more professionalised movement."