Tour de France Cambridge auction fundraises for cycling project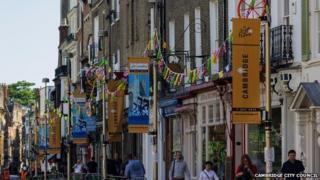 Cycling fans inspired by the Tour de France in Cambridge have raised by more than £3,000 for charity in an auction of official banners and posters.
The money from the sale of 69 lamp-post banners, 71 posters and even bunting, was donated to a cycling project.
The auction idea came from the public, said Neil Jones, marketing manager with Cambridge City Council.
Owners of the official posters, TDFHub Ltd, called it a "lovely idea", he said.
Tania Verdonk tweeted that her poster was now above her stairs, while Jenny Payne tweeted hers was in her garden.
Mr Jones said "we hadn't even thought about it" with regard to what might be done with the posters and other street decorations.
But he said the memorabilia, which included "hundreds of metres of bunting", sold out "incredibly fast".
The £3356.92 raised was given to the community cycling project You Can Bike Too, based at Milton Country Park, just north of Cambridge.
It helps people of all ages with disabilities, or after a stroke or hip replacement, to become more confident about cycling.