'Unpredictable' bull on the loose in Cambridgeshire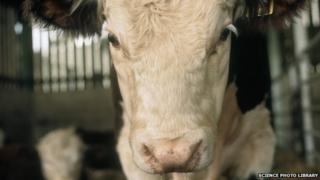 People have been warned not to approach a "frightened and unpredictable" bull on the loose in Cambridgeshire.
The young Hereford bull escaped from a farm in Benwick after jumping over a fence.
Police described the animal as having a brown body and a white head and belly.
PCSO Sally Mitchell said farmers had been searching since Monday but people should not go near the animal as it was likely to be agitated by now and would need "expert handling".
The micro-chipped bull is believed to have fled after being "spooked by other farm animals", she said.
It is thought the bull could have "wandered quite some distance from home". Members of rural network group Countryside Watch have joined the hunt for the animal.