Cambridge park and ride charge queues prompt anger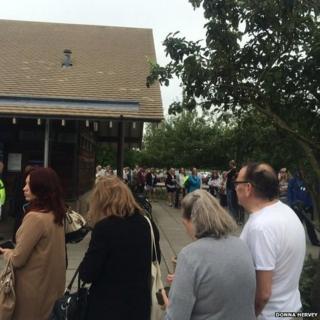 A council has apologised to people caught in long queues caused by a new payment system at Cambridge park and ride sites, branded "a disgrace" by some passengers.
The £1 charge for parking at the five sites, in addition to the cost of the bus ticket, was introduced earlier.
The county council said it would cover the £1m annual maintenance costs.
A spokesman said: "We will review the situation and look at whether more payment machines are needed."
Queues at the automatic number plate recognition machines resulted in a backlash on social media.
One passenger writing on Facebook said the system would put people off using park and ride.
"The choice now is to queue for ages for a bus or queue for ages from the comfort of your own car. Hmmm... tough call," she said.
Another wrote: "Cambridge park and ride 'helping reduce congestion' by making people queue and stopping them getting into town to begin with."
Others complained about the size of the keypad on the new machines, saying the system was "complicated" and "took a lot of time".
The automatic registration recognition system requires people to input the first three letters or numbers of their licence plate and then choose the correct one from a series of stored options.
The council spokesman added: "We apologise for the extra delays people had this morning at our Park and Ride sites.
"Staff were on hand today to help people and we would suggest users of Park and Ride pay for their parking online and avoid queues."