Hinchingbrooke Park road ripped up in lightning strike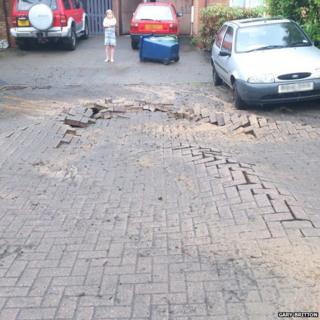 A road has been heavily damaged by what is thought to be a lightning strike on a manhole cover.
Gary Britton said it struck outside his home in Dyson Close, Hinchingbrooke Park, at about 18:00 BST on Sunday.
"I heard a massive bang, like a bomb going off," he said. "When I went out the manhole cover was still smoking.
"The force of the blast moved my car about a foot (30cm) and threw the wheelie bins about 10ft (3m) across the driveways."
The damage occurred during heavy storms across the county.
Mr Britton said there had been "black gunk" that "smelled of sewage" coming from the manhole and that the lightning had also caused three craters in his garden.
A spokesman for Anglian Water said: "Having been to site where the lightning struck we can confirm that none of our sewers have been damaged. All of them are working as they should.
"It seems that the lightning strike has created a ripple effect lifting the block paving in parts, but everything beneath it is working normally."
Cambridgeshire County Council highways officers were assessing the damage to the road and looking to make it safe, a spokesman said.