Cambridge global HQ design for AstraZeneca revealed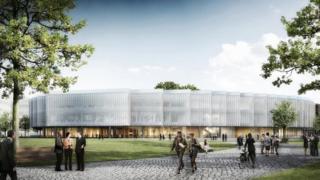 New designs have been revealed for a drug firm's £330m global headquarters on the Cambridge Biomedical Campus.
AstraZeneca's new building will also house its research and development operation, employing about 2,000 staff.
The company earlier revealed more than 400 scientists would move to Cambridge from other locations in 2014
Scientists in the city are already researching the biology of disease and are collaborating with 60 Cancer Research UK staff.
The new designs have been released as part of a public consultation before a planning application is submitted later this year. Building work is due to to start in 2015, the company said.