Cambridge museum's arcade games brought back to life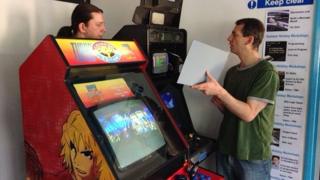 Arcade machines kept in the UK Computer Museum are being restored after enthusiasts answered a plea for help.
The museum, based in Cambridge, hopes games such as Space Invaders, Asteroids and Tempest will be brought back to working order for the public to enjoy.
Organiser Phillip Riscombe-Burton used a games fans' forum to call for help to fix the machines, which have been out of use for at least 17 years.
Volunteers found temporary fixes for five of the eight machines, he said.
They will continue to work on the games until they are fully restored.
The museum has 150 working computers, ranging from the 1960s until the modern day.
The collection also includes 13 arcade games from the 1970s to 1990s, eight of which needed fixing.
Mr Riscombe-Burton invited forum members to visit the museum, share knowledge and work on the obsolete machines.
The 29-year-old software engineer, who owns four arcade games, said: "Meeting up in person is worth weeks and weeks on the forum.
"With arcade repair, it's always like you get an initial fix and then look at the long-term failures."
Three engineers have taken some of the boards home to continue working on them.
Museum director Jason Fitzpatrick purchased the arcade games from various places including American military bases, and loaned them to the establishment about seven years ago.
"We're not like the average museum," he said.
"You can touch everything and play on everything to see what the computers are like."