Peterborough 'mystery amnesia man' in identity plea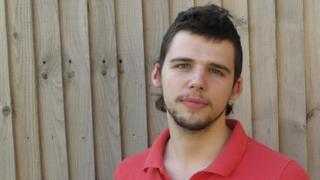 A man found almost two months ago with a "severe case of amnesia" has been described as "a complete mystery" by health workers trying to identify him.
"Robert" cannot remember any details of his life including his name, age or where he is from, Cambridgeshire and Peterborough NHS Trust (CPFT) said.
He was found in a Peterborough park early on 18 May and is thought to be in his 20s and possibly Eastern European.
The CPFT said they hoped someone could "help piece his life back together".
'No improvement'
When he was found the man had no form of identification on him and doctors could find no sign of physical injury.
Dr Manaan Kar Ray, clinical director of acute care at CPFT, said: "Robert appears to be suffering from a very severe case of amnesia.
"Amnesia can last for anything from a few hours to a number of weeks. It is now nearly two months since he was found and there has been no improvement in his condition.
"We have made strenuous efforts to help him with his memory, including taking him back to where he was found, but nothing has been successful so far."
Robert, as he has been named by clinical staff, is described as being in his early 20s, about 5ft 9in (1.75m) tall, and weighs 13st (82.5kg). He has dark hair and blue eyes.
He speaks English, but it appears to be a second language, the trust spokesman said.
He has an accent which is possibly eastern European and he understands some Lithuanian and Russian.
Cambridgeshire Police have confirmed the man is not known to them and so far all attempts to identify Robert have failed, the CPFT spokesman said.