Addenbrooke's doctor 'abused children with cancer'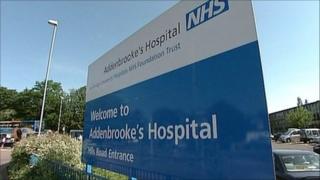 A doctor sexually abused children with cancer, a court has been told.
Myles Bradbury, a paediatric haematologist at Addenbrooke's Hospital in Cambridge, is accused of sexual offences against boys aged 11 to 15.
The 41-year-old from Herringswell, Suffolk, is alleged to have carried out the offences between 2011 and 2013.
Cambridge Magistrates' Court heard he was facing a total of 11 charges including four counts of sexual assault.
He also faces four counts of engaging in, or inciting a boy to engage in, sexual activity, two charges of making indecent images of a child and one count of voyeurism.
Mr Bradbury was not asked to enter a plea and was bailed to appear at Cambridge Crown Court on 11 July.
A spokesman for Addenbrooke's Hospital said Dr Bradbury no longer worked for Cambridgeshire University Hospitals Trust.