Poppy maze in world record bid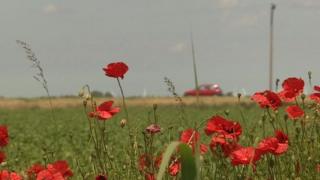 Children have helped plant poppy seeds in the shape of a 14,000 sq ft (1,300 sq m) poppy, which organisers believe will be the biggest ever created.
The poppy will form part of a maize maze in Cambridgeshire and has been planted to mark the 100th anniversary of the start of World War One.
Edward Gowler from Skylark Garden Centre, Wimblington said 60,000 seedlings were planted.
He has applied to Guinness World Records to recognise the achievement.
Mr Gowler said: "It's a huge area to plant, bigger than an Olympic-size swimming pool.
"We believe it will be the biggest poppy in the world made from poppy plants."
Children from Thomas Eaton Community Primary School, Wimblington helped with the planting.
Depending on the weather, the poppies should be blooming by the end of July.