Cambridge Waitrose undersells Tour de France cycle race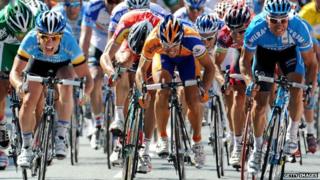 Waitrose has described the Tour de France as a "local sporting event" and warned customers it could affect their shopping plans.
A sign in the supermarket's Trumpington branch said roads in Cambridge would be "disrupted" and suggested the race could cause "difficulty".
Le Tour, the world's biggest cycle race, goes through the city on 7 July.
Waitrose apologised, saying: "We accept this wasn't the right way to describe an international sporting occasion."
Waitrose's parent company is John Lewis, which has the slogan "never knowingly undersold".
The sign in its Cambridge branch said: "Due to a local sporting event a number of roads will be disrupted around our branch causing difficulty shopping on Monday 7 July."
Ian Manning, Liberal Democrat councillor for East Chesterton, who in November called for the council to offer workers flexible hours so they could watch the race, said to call Le Tour a "local sporting event" was "understated".
'Bizarre' description
"Given that Cambridge is the UK's number one cycling city and the Tour de France is the world's number one cycling event - if Waitrose believes this to be a 'local sporting event' the phrase never knowingly understated springs to mind, let alone undersold," he said.
"To have the race in the city is just incredible - describing it as a local event is bizarre to say the least."
Mick Draper, president of the Cambridge Town and County Cycling Club, said: "It's totally the wrong way to describe it.
"It's an international event that's been all over the world, so you can't call it a local event."
A spokesman for Waitrose, said: "We're very sorry that we got it wrong."
The third, flat, stage of the Tour de France 2014 starts in Cambridge and travels 155km (96 miles) to London.
An estimated 400,000 spectators are expected to view Le Tour in Cambridge.