Burwell crossbow-threat kidnapper Alex Wallis jailed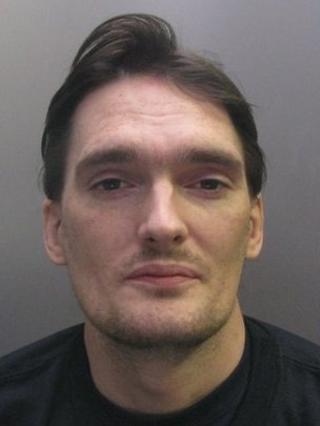 A man who kidnapped a woman he met on an internet dating site and threatened her with an arsenal of weapons has been jailed for 15 years.
Alex Wallis, 35, attacked the victim after she refused to give him £500 at his home in Burwell, Cambridgeshire.
He held a crossbow to her neck, drove her to banks more than 100 miles away in the West Midlands and threatened her with a knife and BB gun.
He admitted false imprisonment and other charges at Cambridge Crown Court.
Wallis, of Silver Street, had been seeing the woman for five months when he demanded the money to pay for drugs on 4 January.
He assaulted her and threatened to harm her family if she did not withdraw cash for him.
The woman was then ordered into a car before Wallis drove her to Cambridge, Worcester, Stratford-upon-Avon and Coventry.
He was spotted assaulting the woman, including headbutting her, when they were parked in a McDonald's car park, and police later pulled the car over on the A14.
'Terrifying ordeal'
Police said they discovered a haul of weapons at his home, including the crossbow.
He initially denied false imprisonment, common assault, two counts of causing actual bodily harm and three counts of possessing an offensive weapon but pleaded guilty on second day of his trial after refusing to attend Cambridge Crown Court.
Wallis was also banned from driving for five years and given a lifetime restraining order, banning him from contacting the victim.
Det Con Stephen Phillips said: "Wallis is an extremely dangerous man who was shown to have a personality disorder brought on by his drug abuse.
"This must have been a terrifying ordeal for the victim, who has shown great courage to go to court and was prepared to give evidence against him.
"Wallis had a history of violence and other offences and this case also shows how important it is for people to use Clare's Law when starting a relationship with a new partner - especially if you have met them online and do not know about their past."