Peterborough festival Harris hawk refuses to leave tree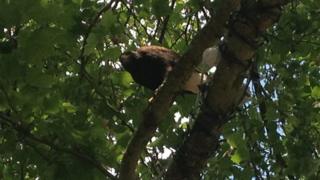 A hawk that escaped after performing at a festival in Peterborough has taken up residence in a tree in the city and refuses to come down.
Harris hawk Spirit escaped from owners during the Heritage Festival on Sunday.
He has so far refused to be coaxed from a tree in Bridge Street, despite being tempted with food.
Falconer Gary Baxter, from Wisbech, said he had spent the night beneath the tree with the bird "snoring in his ear", waiting for Spirit to fly down.
'Waiting game'
Mr Baxter said Spirit had "flown like an angel" on Saturday but the problems began in hot weather on Sunday.
"As soon as I let the birds out of boxes the cloud cleared and someone turned the oven up to gas mark eight," he said.
"Spirit said, 'I'm not doing nothing in this, where's a tree? I'll go and sit in there, it's cool'."
He said "patience" was the key as he continued to "sit and wait".
It is thought Spirit has already killed and eaten two pigeons.
Staff at Waterstones bookshop on Bridge Street tweeted: "A rather large bird of prey has settled in a tree outside the shop and is terrorising the local pigeons! #TheBirds."
Liz Blows, founder of the Raptor Foundation in Woodhurst, said: "Getting a hawk out of a tree is basically a waiting game.
"As it's been eating it will be fat, and 'fed-up' as we call it."
She said trying to tempt the bird with extra food was "a bit like you eating a full Christmas dinner and then being asked to polish off an eight-course Italian supper - you wouldn't want it".
Mrs Blows added: "My best advice is that the owner gets a flask of coffee and a sleeping bag and waits for the morning."