Tour de France Cambridge knitted bunting ready to brighten city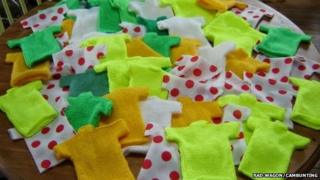 A man who "can't knit a stitch" says his plans to cover the streets of Cambridge with knitted bunting ahead of the Tour de France are almost complete.
The UK stage of the race comes to Cambridge on 7 July.
Cycling enthusiast Rad Wagon recruited hundreds of people to knit more than 1,100 miniature "Tour jerseys".
The jerseys still need to be threaded together but in two weeks' time they will be handed to the city council to be hung along the route of the race.
A similar "mini-jersey" idea is being promoted by Harrogate Borough Council for the Yorkshire stage of the race and Mr Wagon was given permission for some of his knitters to use the same pattern.
When he hatched his plan in March, cycle trainer Mr Wagon said he was determined to "go one better" and cover Cambridge not only in miniature jerseys, but bicycles and bike wheels covered in yarn.
He said he had been overwhelmed by people's enthusiasm for his project.
Pub knitting groups, the Women's Institute and businesses have all got involved, and wool shops have held classes to help out.
Despite this, Mr Wagon has still not learned to knit.
"I was taught, and I bought a kit," he said. "And it's sadly remained on my table."
With one week to go before the deadline for the final jerseys to be completed, he hopes to top the 2,000 mark.
The knitting is currently being put in bags which will be handed to contractors employed by the city council to help decorate Cambridge in time for the Tour.
"We've been allowed to use the Christmas light wires to hang our bunting and some lampposts near the Round Church," Mr Wagon said.
"I think the best thing about this whole project has been meeting so many fantastically excited people who couldn't care less about the bike race.
"However, I expect they will all watch it now because they are part of it and can really feel involved in something big in their city that's being watched by the world," he said.
Despite asking knitters to stick to official colours of the Tour de France jerseys, "a few odds and ends crept in when knitters got a bit over-enthusiastic", Mr Wagon said.
"I don't want to waste them, though. I might hide them amongst the 'official' bunting jerseys and see how long it takes people to tweet about that."