Sonic boom 'tied up' Cambridgeshire 999 resources, police say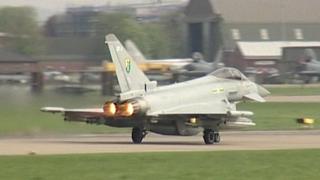 A sonic boom that shook houses in Cambridgeshire led to a spate of 999 calls "tying up" resources, police say.
Forty people called 999 reporting the noise at about 13:00 BST on Thursday, and a further 120 people called the non-emergency 101 number.
A sonic boom is created as an aircraft breaks the sound barrier.
The MoD said Typhoons from RAF Coningsby were responding to a report that a civilian aircraft had lost radio contact with air traffic control.
It said aircraft were authorised to go supersonic for "operational reasons".
The sonic boom, which released a high-energy shockwave, caused windows to rattle and set off car alarms in the north and west of the county.
'Stop calling 999'
One woman who was using a gym in central Peterborough said: "It sounded like a bomb going off."
Another, who was having lunch in a restaurant, said the windows rattled, and an office worker said the sonic boom had shaken his building.
"We thought we'd better leave as it felt like the noise was under the building, which was quite frightening, so yes, panic - terrible," he said.
Cambridgeshire Police received 160 calls between about 13:00 and 14:00 BST from people concerned about the noise.
"We did receive a large number of calls following the sonic boom from people reporting a loud bang and windows being shattered," a spokesman said.
"We put a message out at the time to reassure people we were aware, and to stop calling 999 or 101 to report the noise."
The volume of calls "tied up operators for a short time", he added.
A Ministry of Defence spokesman said: "The MoD can confirm that Typhoon aircraft from RAF Coningsby were launched from Quick Reaction Alert to investigate a civilian aircraft which had lost radio contact with air traffic control.
"The civilian aircraft re-established communication prior to intercept and was released to proceed en route.
"The Typhoon aircraft were authorised to go supersonic over land for operational reasons. Any inconvenience caused to local residents is regretted.
"Members of the public believing they have sustained damage from the presence of military aircraft should contact the RAF who will provide details of the procedure for claims to be investigated."